Letter to the Editor

Open Access
Compatible solutes: the key to Listeria's success as a versatile gastrointestinal pathogen?
Received: 6 December 2010
Accepted: 10 December 2010
Published: 10 December 2010
The Gram-positive foodborne pathogen Listeria monocytogenes is a causative agent of gastroenteritis [2, 3] and in severe cases, listeriosis, which ranges from a mild flu-like illness to meningitis, or as infection of the foetus in pregnant women. Described as a 'Jekyll and Hyde' character [4], L. monocytogenes exhibits saprophytic and parasitic lifestyles; residing both in decaying plant matter in the soil [5], and as a transient inhabitant of the gastrointestinal (GI) tract of several animal species including man [6].
This physiological robustness (the ability to adapt to a variety of different environments) results from an ability to sense and respond rapidly to changes in the external environment [7]; a response mediated by a complex arsenal of genes encoding proteins linked to survival both within and outside of the host [8]. One such response, which has been the focus of significant research efforts in our laboratories, is the accumulation (either by transport [9] or synthesis [10, 11]) of compatible solutes - low-molecular-weight molecules which when amassed to high intracellular concentrations help ameliorate the effects of several stressful conditions [12].
The preferred compatible solutes for the majority of bacteria and those most effective in
L. monocytogenes
are the trimethylammonium compounds; betaine, which is found in relatively high concentrations in foods of plant origin [
13
,
14
] and carnitine, which is most abundant in animal tissues [
15
]. Functional genomic studies, coupled with
in silico
analysis of genome sequences [
8
], revealed four putative compatible solute uptake systems in
L. monocytogenes
: BetL and Gbu (dedicated to betaine uptake), OpuC (which transports carnitine and to a lesser extent betaine) and OpuB which was designated as a putative compatible solute uptake system solely on the basis of sequence homology to the betaine uptake system BusA (OpuA) of
Lactococcus lactis
(Figure
1
) [
16
].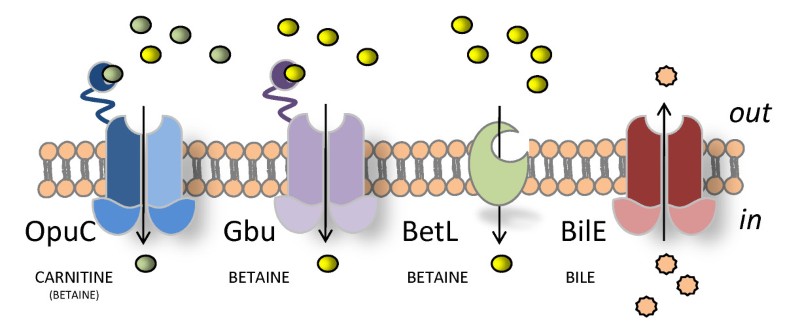 Although initially identified as osmoprotective compounds (facilitating growth of the pathogen in low aw environments), subsequent studies revealed a multitude of beneficial effects arising from compatible solute accumulation; including protection against desiccation [17], low temperature [18] and high pressure [19] stresses encountered in foods and/or food processing environments. However, in addition to facilitating growth and survival in external environments, we have revealed a significant role for OpuC (and more specifically carnitine uptake) in enabling growth and survival of the pathogen within the host GI tract [15]. Inactivating the opuC gene, and thus reducing carnitine uptake, resulted in a significant reduction in the ability of L. monocytogenes to colonize the upper small intestine and cause subsequent systemic infection following oral inoculation. Given that the osmolarity of the gut (equivalent to 0.3 M NaCl) represents an osmotic challenge to the pathogen and that carnitine is the most abundant compatible solute in that environment (0.05 to 0.2% on a fresh weight basis), this finding was perhaps predictable. But is this the full story? Is osmotolerance alone responsible for the increased gut colonization and persistence ascribed to opuC in L. monocytogenes, or indeed betL when heterologously expressed in Bifidobacterium breve? [20]
(1)
Department of Biological Sciences, Cork Institute of Technology, Rossa Avenue, Bishopstown, Cork, Ireland
(2)
Alimentary Pharmabiotic Centre, University College Cork, College Road, Cork, Ireland
© Sleator and Hill; licensee BioMed Central Ltd. 2010
This article is published under license to BioMed Central Ltd. This is an Open Access article distributed under the terms of the Creative Commons Attribution License (<url>http://creativecommons.org/licenses/by/2.0</url>), which permits unrestricted use, distribution, and reproduction in any medium, provided the original work is properly cited.