Letter to the Editor

Open Access
Towards ending viral hepatitis as a public health threat: translating new momentum into concrete results in South-East Asia
Received: 22 February 2018
Accepted: 26 February 2018
Published: 5 March 2018
We are living through a "golden age" of global health with respect to communicable diseases. As a result of scientific breakthroughs, global solidarity and focused funding, mortality associated with leading communicable diseases is on the decline. Indeed, since 2000, the progress in combatting the leading communicable diseases (HIV, tuberculosis and malaria) has prompted the global community to commit to end these epidemics once and for all by 2030.
But there is one glaring exception to the good news regarding communicable diseases. While mortality from HIV, Tuberculosis, and Malaria is now declining, mortality caused by viral hepatitis is on the rise. The viral hepatitis challenge is monumental, as it is the seventh leading cause of death worldwide. Annual deaths from hepatitis (1.34 million) [1] exceed the number of AIDS-related deaths (1 million) [2] and approach mortality associated with tuberculosis (1.67 million) [3].
The continued rise in hepatitis-related deaths is both alarming and ironic, as hepatitis is wholly preventable and, in the case of hepatitis C, curable. Although viral hepatitis is a major global health challenge, the world has yet to bring to the fight against hepatitis the seriousness, passion and focus that we have seen for other leading communicable diseases.
However, there is now reason to believe that the global community is ready to take viral hepatitis seriously. In 2014, the World Health Assembly called on WHO to develop a global strategy for viral hepatitis. Two years later, WHO Member States unanimously endorsed the WHO Global Health Sector Strategy for Viral Hepatitis 2016–2021 [
4
]. This global strategy aims to achieve for viral hepatitis what the world now seeks for other leading communicable diseases—eliminating hepatitis as a public health threat by reducing new infections by 90% and mortality by 65% by 2030 (Fig.
1
).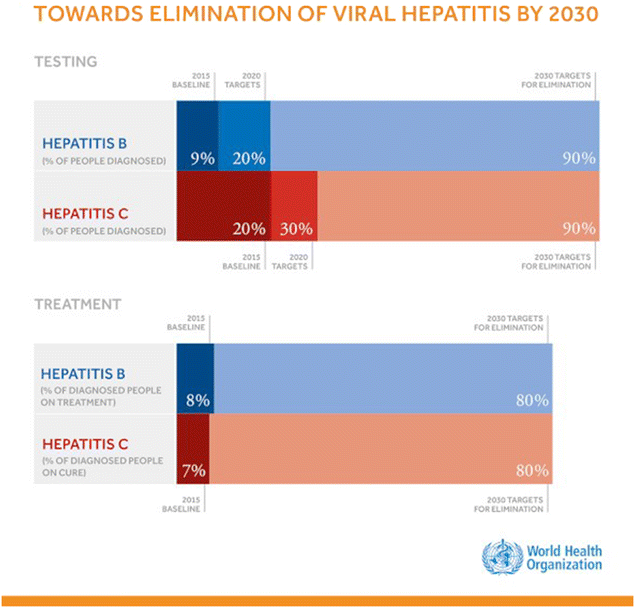 (1)
World Health Organization, Regional Office for South-East Asia, World Health House, Indraprastha Estate, Mahatma Gandhi Marg, New Delhi, 110 002, India