Update on the pathogenic potential and treatment options for Blastocystis sp
Received: 21 April 2014
Accepted: 15 May 2014
Published: 28 May 2014
Abstract
Although Blastocystis is one of the most common enteric parasites, there is still much controversy surrounding the pathogenicity and potential treatment options for this parasite. In this review we look at the evidence supporting Blastocystis as an intestinal pathogen as shown by numerous case studies and several in vivo studies and the evidence against. We describe the chronic nature of some infections and show the role of Blastocystis in immunocompromised patients and the relationship between irritable bowel syndrome and Blastocystis infection. There have been several studies that have suggested that pathogenicity may be subtype related. Metronidazole is the most widely accepted treatment for Blastocystis but several cases of treatment failure and resistance have been described. Other treatment options which have been suggested include paromomycin and trimethroprim- sulfamethoxazole.
Keywords
BlastocystisPathogenicityTreatment failureSubtypesParasitology
Introduction
Blastocystis
is one of the most common intestinal protists of humans.
Blastocystis
was first described 100 years ago but surprisingly little is still known about the pathogenicity, genetic diversity, host range and treatment. First classified as yeast,
Blastocystis
was then subsequently classified as a protist and has now been placed within the Stramenopiles [
1
–
5
].
Blastocystis
has a world-wide distribution with higher numbers being found in developing countries probably due to poor sanitation [
6
].
Blastocystis
has been found in a wide range of animals including mammals, birds and amphibians. Up to 17 subtypes have been described with subtype (ST) 1–9 being found in humans [
7
]. ST3 is the predominant ST found in most human epidemiological studies [
8
–
10
]. Due to the lack of knowledge about this parasite, there is still controversy about whether to treat infections as they may just be opportunistic colonisation. There has been conflicting results about the efficacy of treatments and this is an area where much more research is needed.
Blastocystis
is transmitted by the faecal oral- route by human- human or animal- human transmission. There have been several studies that have shown possible transmission by contaminated water and it has been stated that the poor provision of basic amenities plays an important role in transmission [
11
–
13
]. A recent study showed that 100% of people from low socio-economic villages in Senegal were infected with
Blastocystis
sp. suggesting that transmission was increased due to poor hygiene sanitation, close contact with domestic animals and livestock, and water supply directly from well and river [
10
]. There are several methods for the detection of
Blastocystis
. Microscopy of a permanent stain is the gold standard for the diagnosis of
Blastocystis
in most clinical laboratories. Microscopy was shown to have the lowest sensitivity for the detection of
Blastocystis
(48%) with PCR being the most sensitive technique used (94%) [
14
]. Figure
1
describes a current view of the lifecycle of
Blastocystis
.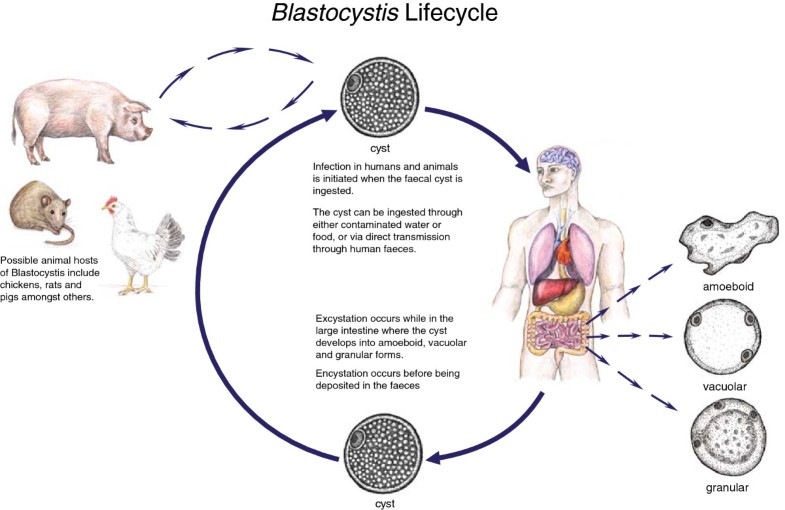 Conclusions
It is clear from all these studies that there is still much work to be done in the areas of pathogenicity, treatment and control. As more information from the genome is gathered there will be more opportunity to identify possible genes that transcribe for pathogenicity and treatment resistance. A simple antimicrobial susceptibility test for Blastocystis could help to assure the correct drug is administered and not allow for resistance to develop. Diagnosis should be made by the use of PCR and treatment should be considered when no other infectious agent can be identified.
Authors' Affiliations
(1)
Department of Microbiology, St. Vincent's Hospital, Darlinghurst, Australia
(2)
School of Medical and Molecular Biosciences, University of Technology, Sydney, Ultimo, Australia
Copyright
© Roberts et al.; licensee BioMed Central Ltd. 2014
This article is published under license to BioMed Central Ltd. This is an Open Access article distributed under the terms of the Creative Commons Attribution License (http://creativecommons.org/licenses/by/4.0), which permits unrestricted use, distribution, and reproduction in any medium, provided the original work is properly credited. The Creative Commons Public Domain Dedication waiver (http://creativecommons.org/publicdomain/zero/1.0/) applies to the data made available in this article, unless otherwise stated.